With the ninth installment of the Fast & Furious series now out in (*GASP*) theatres, there are a lot of changes to come back to for the cast and fans alike.  With no Rock to anchor F9: The Fast Saga, can John Cena hang with Vin Diesel and Company and get fast and furious?  That is the question asked myself as I prepared to see it on the silver screen.
I re-read Dave Hillhouse's take on the Fast & Furious movie marathon, and as for why Diesel and The Rock aren't together has been addressed in the gossip rags around Hollywood.  But let's jump to the whole (oh, let's be charitable, and call it a) plot of this new chapter.
Dominic Toretto (Diesel) and Letty (Michelle Rodriguez) have made a quiet life for themselves out in the boonies, and their life is slow and quiet, until their BF&FF's (that's Best Fast & Furious Family) come riding into town and the crew of Roman (Tyrese Gibson), Tej (Ludacris), and Ramsey (Nathalie Emmanuel) put the band back together for another mission.  The problem is Mr. Nobody (Kurt Russell) just caught Cipher (Charlize Theron in a horrible bob haircut), but as Nobody was bringing her to justice, an elite task force broke her out, and it's led by none other than Jakob (Cena)… Dom's kid brother. And from there, to quote the late, great movie critic Jeff Vice, wackiness ensues.
At this point, and especially after the year *everyone* has had, we need a break from anything that's too think-y, and this movie delivers in spades. There is car chases to be had, stunts galore, and acting that has just the right amount of B-Movie magic that is so buttery you can lather your popcorn with it.
The key things to keep in mind with this movie is that it's a tried and true formula, and director Justin Lin adheres to it with precision driving, and it never strays out of its lane. The attempts at retconning Jakob into the whole Fast saga is a bit far-fetched, but it works (and the actors playing the younger versions of Diesel and Cena are spot-on).
I took the time to watch this in my favorite movie theatre/bar in Utah, Brewvies, and of course I had to make this a drinking game. So, for those of you that want to participate (or not; no one is peer pressuring you), then I recommend grabbing a Corona beer (naturally) and take a drink when:
Anyone says "brother" or "sister"
There is a ridiculous car stunt (pace yourself)
Jakob looks intensely at the screen
NOS gas is used for any car scene
Drain your glass when "family" is mentioned (again, pace yourself. Or get a designated driver. It's up to you.)
As for Cena's role in F9?  It's serviceable, but he doesn't have the same charisma that The Rock has. That's not a knock on Cena, it's just a fact. As for the way his character of Jakob is written (with a story and screenplay credit also by Lin), Cena's entire approach to the role can be best described as perma-scowl. But fans will warm up to his screen debut in the Fast franchise. As I was watching, I overheard a group next to me exclaim, "You can't see me!" at the screen. This prompted me to do the following…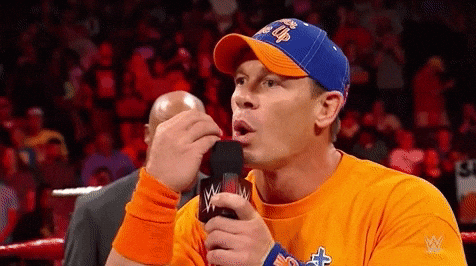 As a pro wrestler, Cena's been known to play up being a babyface more easily than being a diabolical heel, and this is where his role is on shaky ground, but working with Diesel does manages to pair up just fine, especially when there's more car stunts than you can shake a stick at.
It's definitely a good movie to see in the summer months and have some fun watching, even though there are some moments that are very head scratching that even Tej remarks in the film, "How in the hell are you not dead?!" And without giving away too much, there are going to be those moments that will leave viewers perplexed.  To that, I quote the line from Mystery Science Theatre 3000 (MST3k):
"Just repeat to yourself, 'It's just a show, I should really just relax…' "
As the first of two summer blockbusters to come out for Cena (the other being the Suicide Squad sequel coming in August), this movie overall is just mindless fun. So shift into gear and get together with your BF&FF's to see this movie while you can.  It's a fun time to enjoy movies like this again… with your family.
Fast & Furious 9 (AKA F9: The Fast Saga) (2021)
| | |
| --- | --- |
| Tag Line: | Fast Family Forever |
| Directed By: | Justin Lin |
| Written By: | Daniel Casey, Justin Lin, Alfredo Botello, Gary Scott Thompson (characters) |
| Cast: | Vin Diesel, Michelle Rodriguez, Jordanna Brewster, John Cena |
| Runtime: | 2 hours and 25 minutes. |
---
RELATED LINKS
Slam Wrestling's Hollywood Headlock Rating Scale:
1: Unsafe Worker (Avoid!)
2: Pre-Show Performer
3: Mid-Card Material
4: Main Eventer
5: World Title Winner