It's Friday night, and you know what that means. No, not to slip into a tryptophan coma, or to contemplate poor sports betting choices (Looking at you, Detroit Lions!  Last time I ever bet on your worthless mangy hides.  Would it kill you to actually win *ONE* Game Worth a Damn?!).
*ahem*
It's time for AEW Rampage, and The Dark Order faces La Facción in tag action tonight. But all may not be good in the ranks of The Dark Order, as "10" has become somewhat disillusioned of late. We'll see later tonight what shakes up, but for now, we come to you from the Wintrust Arena in Chicago, Il. Excalibur, Tony Schiavone, and Jim Ross have the call, plus Ian Riccaboni joins at commentary for the First Match of the night, and it's for the…
---
Ring of Honor World Tag Team Championship: FTR (Dax Harwood and Cash Wheeler) vs. Top Flight (Dante and Darius Martin)
---
Darius and Harwood start and Darius hasn't lost a step since returning back from a car accident that kept him on the shelf.  Both teams are evenly matched, but it's Top flight that has double-team high-flying action, and that makes FTR take a breather outside to reassess their game plan.  During Picture in Picture, Top Flight is in control, and Dante nails both men in the ring with a missile dropkick.  That leads to a  tope by Darius on FTR to the outside, and a high-flying axehandle smash that Dante almost doesn't land. Inside, Dante gets some hangtime with a crossbody to Harwood to cover for a two count.
Dante is in the FTR corner, and Harwood nails with a springboard powerbomb to Wheeler with a splash to cover, but they too get just a two count.  Back to the Top Flight corner, Darius hits a DDT to a splash by Dante for a cover, and Wheeler breaks the count.  From there, both teams go big as Darius gets a Spanish Fly to Wheeler, and Harwood nails a brainbuster to Dante, but neither side can put the other away.  Dante and Harwood trade pins, and then he goes up top for the Nose Dive finisher,  but FTR scout it and deliver the Big Rig for the three count.
Your Winners via Pinfall, and Still ROH World Tag Team Champions:  FTR
After the match, The Gunn Club come out to the ramp, and they put out a challenge to FTR.  How precious!
---
We get a video package of Powerhouse Hobbs and his life living in Los Angeles. The gist of it is he will take what he can whenever he can.
"Just like everyone has taken everything that's meant something to me, I'm taking everything that means something to you." #Powerhouse @TrueWillieHobbs

It's #AEWRampage: Black Friday on TNT! pic.twitter.com/szwN6WBzAn

— All Elite Wrestling (@AEW) November 25, 2022
---
Chris Jericho comes out with the Jericho Appreciation Society and puts himself over as the best ROH World champion, and that brings out Claudio Castagnoli. He feels like he can beat him, but Jericho implies there is an issue with his Blackpool Combat Club. Castagnoli says he can't sleep and wants that rematch that he deserves. Jericho denies his challenge, but "Daddy Magic" Menard makes a suggestion, and thinks he can be a great sports entertainer in JAS.
That makes Jericho's nipples hard (his words, not mine.  Also…ew!), and agrees to face  Castagnoli for the ROH World Heavyweight Championship at Final Battle. If Castagnoli loses he has to join the Jericho Appreciation Society.  Castagnoli agrees to the terms and promises he will bring honor back to the title.
If nothing else, for my sake and the sake of everyone not seeing Jericho's areolas at full attention, please make that happen O Swiss Superman!
---
Renee Paquette is with Toni Storm, whose face tells the story of the brutal aftermath of the match. She acknowledges that Hayter bested her, but only when Britt Baker and Rebel interfered. Even with news of Rosa relinquishing the title to legitimize Storm's run, it is of little consolation to her. Storm says she broke her face getting the title and will break it again to get it back.
#ToniStorm was left with a bitter taste in her mouth after #AEWFullGear…

It's #AEWRampage: Black Friday on TNT! pic.twitter.com/Ee8G5LkyFe

— All Elite Wrestling (@AEW) November 25, 2022
And now for the next match with…
---
Darby Allin (with Sting) vs. Anthony Henry (with JD Drake)
---
Yeah, this calls for a Haiku in Review™:
*ahem
It's not over for
Allin, but for Henry it
Is. Coffin drop. Done.
Your Winner via Pinfall:  Darby Allin
---
Lexy Nair is backstage with Athena.  She had been suspended, but Athena doesn't apologize and dismisses Nair.  Then she faces the camera and asks why after she goes through every trashy wrestler that NOW Mercedes Martinez appears.  She also wonders when Martínez will put up the ROH Women's Championship against her.  I'd like to see that, too.
.@AthenaPalmer_FG has her sights set on @RealMMartinez and the #ROH Women's World Championship!#AEWRampage: Black Friday is on TNT! pic.twitter.com/MtmVDUTVK5

— All Elite Wrestling (@AEW) November 25, 2022
Next up is…
---
Hikaru Shida vs. Queen Aminata
---
Hoo-kay.  As I was about ready to do a double Haiku, The Bunny and Penelope Ford come out to watch and Aminata takes advantage of the distraction.  But faster than you can say "Holy Shida," one Katana later and the match is over.
Your Winner via Pinfall:  Hikaru Shida
Ford and Bunny walk back up the ramp, as Shida stares down at them.  Personally, I'd like Shida to have another run at the AEW Women's title, but hey…what do I know?
---
Mark Henry is with Rush and The Butcher, The Blade, The Bunny, and Jose The Assistant are all assembled. Reynolds and Silver are there, too, but "10" is not there.  Blade says it doesn't matter how many there are in The Dark Order, they'll cut right through them, and Rush says they will be the Perros.
It's time for the main event! But where is @Pres10Vance?

Tune in to #AEWRampage: Black Friday on TNT right now! pic.twitter.com/aLw5uW5hoE

— All Elite Wrestling (@AEW) November 25, 2022
(Author's Rant:  Folks, can ya guess what's gonna happen next?  Me, too, and this is the definition of "Anvilicious."  If you're not familiar with the term, it's where something is handled in a heavy-handed matter like an anvil being dropped on your head, a la Wile E. Coyote when his schemes go awry.  You know it's gonna hit ya, but you just let it happen either way.  Sure, you can use "telegraphed" or some other variation, but to me, the heavy-handedness of this angle is as thick and bludgeoning as an anvil on top of your skull.  End Rant.)
---
Dax Harwood challenges Bryan Danielson at next week's AEW Dynamite because even though he and Wheeler have had a great run in 2022, he wants to close strong with a singles win before 2023.  Top Guys Out, indeed.
But let's head back to ringside for The Main Event, and it's…
---
Rush, The Butcher and The Blade (with Jose the Assistant and The Bunny) vs. The Dark Order (Alex Reynolds, John Silver, and…no "10" in sight)
---
Right away this is a Pier Six…err, Five brawl with all men that spills out of the ring and Reynolds explodes at Blade.  Butcher grabs Reynolds' leg and trips him up and the match goes to the mercenaries of Rush.  Reynolds manages to tag Silver and "Johnny Hungee" goes to work.  He then goes to dive on The Butcher, who catches him and throws Silver to Rush and he lands with an elbow strike.  From there, Silver is a Dark Order in Peril.  During Picture in Picture, Silver tries to fight them off and goes to tag Reynolds, but Blade pulls him off the ring.  Rush is tagged in and charges in the corner, but pulls up for a kick to be so Tranquilo.  Silver triesto fight off Butcher and Blade and Rus cuts off the tag once again.  Suddenly, Evil Uno and Negative One are on the ramp, and "10" comes out and…
Yup, just like an anvil, he clotheslines Silver and turns his back.  If you want a visual example of what that payoff feels like, it's a little like this: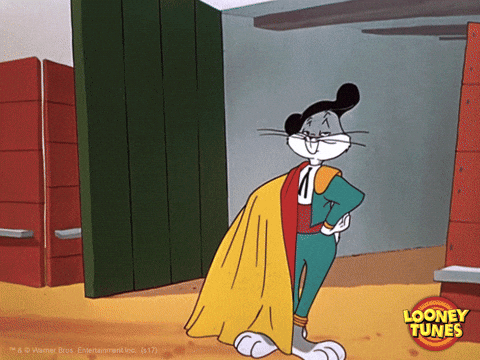 Anyway, Rush is in and delivers The Bulls Horns to cover Silver for the one, two, and three.
Your Winners via Pinfall:  Rush, The Butcher, and The Blade
Your Losers:  Everyone.
After the match, "10" gives a one-fingered salute to the Chicago crowd, then Butcher and Balde pummel Uno and rip his mask and leave him in a heap.  Then Rush and "10" send Reynolds through the table, and that looks to be the end of The Dark Order.  As he walks up the ramp, he looks at Negative One, and takes off his mask, and throws it at the youngster's feet.  Jerk!  Now he officially joins La Faccion as they raise their first and taunt Brody Lee's son further until the show goes to credits.
Absolutely despicable acts by @pres10vance as he tosses his mask directly in front of a broken-hearted Negative 1 💔 here on #AEWRampage on TNT pic.twitter.com/q9sSa9F3vE

— All Elite Wrestling (@AEW) November 25, 2022
Final Thoughts:
Honestly, this was not the payoff I was expecting.  I get they were going to do this when El Idolo was around, but things change and this was Plan B.  I just wished they spent more time on the payoff to make me care instead of making "10" swerve on The Dark Order be so heavy-handed, like an anvil.  The saving grace of the show was FTR/Top Flight, by far.
For now, See ya in seven, and watch for anvils!