"The road to victory is arduous," intones the deep voiceover guy, and brother I'm here to tell ya, he ain't kidding.  From recent events involving Tommy Dreamer's comments to the heavyweight title picture, will Captain Charisma reign supreme, or is it inevitable that Ace Austin will become the new, and youngest, IMPACT Wrestling champion?  We'll find out as it's time for the IMPACT Wrestling Victory Road.
Bob Kapur is "on assignment" and I, your Lucid Luchador, will recap the action, coming to your streaming service from the Skyway Studios in Nashville, TN.  Matt Striker and D'Lo Brown have the call, and we start the night with the first X-Division matchup…
---
Petey Williams vs. TJP vs. Steve Maclin
---
The crowd pops hard for "The Canadian Destroyer", but the match is all Maclin, as the former Forgotten Son lays in some power moves to counter the high flying acrobatics of TJP and Williams.  Biggest move by Maclin has him put both men in the corner and drape them both in the Tree of Woe and he shoulder tackles both men to cover for a count of two.  But TJP gets his licks in with a beautiful tornado DDT to Maclin that lays in out cold.  From there, Williams and TJP team up and set Maclin in the corner for a Ten Count Punch (Williams hit odd numbers, TJP did evens).
Next spot had Williams lock Maclin in a Sharpshooter, and TJP cinches Williams in an Octopus Stretch until Maclin reaches for the ropes to break the hold.  TJP then goes to face wash Maclin and Williams in separate corners, and nails a Detonation kick to Maclin for a two count.  TJP goes up top, but misses his Mamba splash, and Williams hits his Canadian destroyer on TJP, but Maclin gets Williams in a Michinoku Driver to send him out of the ring, and gets the pin on TJP.
Your Winner via Pinfall:  Steve Maclin
---
Good to see that the former Steve Cutter is doing better in his future endeavors, but the match probably belonged on AXS-TV.
So let's get to the next X-Division match of the night…
---
Black Taurus vs. John Skyler vs. Jake Something vs. Laredo Kid vs. Trey Miguel
---
I forgot how fast paced the X-Division action was, and there is a lot to cover in this match.  How can I cover what looks like human ping pong balls at full speed?  To quote Inigo Montoya, "Let me explain…no, there is too much.  Let me sum up."
Laredo and Miguel were the high flyers of the night; Taurus and Something were the monsters with agility, and Skyler's size and strength found him somewhere in the middle.   In short…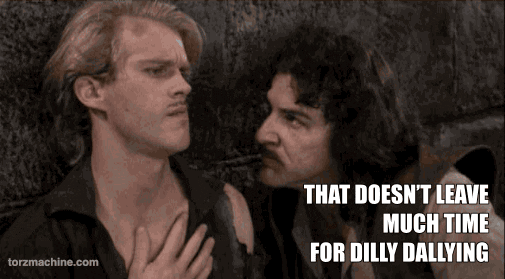 Big moves of the match had Miguel and Laredo hit a combo Meteora/DDT Jake Something.  The Jake chokeslammed Miguel onto Laredo.
.@JakeSomething_ chokeslams one man ONTO ANOTHER! #VictoryRoad pic.twitter.com/4n7ZrEb5EA

— IMPACT (@IMPACTWRESTLING) September 19, 2021
But, it was Laredo kid who got Miguel up top in an impressive Moonsault/belly to belly suplex for the three count.
Your Winner via Pinfall:  The Laredo Kid
The moral of the story, kids; always look to luchadors.
---
We now get a video package highlighting how Madison Rayne and Tenille Dashwood joined up as a Voltron of Vapidness, and Taylor Wilde wants to set them straight…or something.  I'm sure there a reason this match was on the card, but damned if I can figure it out.  Anywhoosles, this is your next match…
---
Taylor Wilde (with Jordynne Grace and Rachael Ellering) vs. Tenille Dashwood (with Kaleb with a K and Madison Rayne)
Dashwood and Wilde slug it out to start, but Wilde is able to outwrestle the Aussie sensation.  Wilde has excellent agility, but it was the outside interference from Rayne and Dashwood that allowed Dashwood to get the upper hand.  Rayne manages to snap Wilde's neck on the ring ropes, and she and Dashwood use the opportunity to have Kaleb get a nice candid photo (using a Lomo Camera…don't ask me how I know that fact), before Dashwood attempts a pin for a two count.  Dashwood gets Wilde in a full Nelson, but the Canadian native tries to power out before Dashwood knocks her back down.  Wilde reaches the ropes to break the hold, but this prompts more outside interference, but this time the ref catches Kaleb in the act, and gets him ejected, as Ellering and Grace protest.  Rayne gets mouthy, and Grace pushes Rayne down and the ref has had enough and decides *EVERYONE* gets ejected.  With Dashwood's friends gone, the Vapid Voltron is gone, and Tenille is left to her own devices, as Wilde gets some offense in and hits a beautiful bridging German suplex for the three count.
Beautiful German suplex by @RealTaylorWilde. #VictoryRoad pic.twitter.com/BeGmaqr1Fn

— IMPACT (@IMPACTWRESTLING) September 19, 2021
Your Winner via Pinfall:  Taylor Wilde
---
Backstage, it's Gia Miller with Eddie Edwards and Sami Callihan backstage teaming up so they can take out Moose and W. Morrissey because they are the gatekeepers of IMPACT!  Alisha wanders in after Callihan exits and says she's sticking by her man to make sure nothing happens.  Gosh, what could go wrong with this plan?
Anyway, it's time for a little bit of the ultraviolence with…
---
Matt Cardona vs. Rohit Raju (with Shera) in a No Disqualification match
Cardona attacks Raju from behind before the bell rings, but all for naught as the numbers game catches up to Cardona.  The Nashville crowd is solidly behind Cardona, but Raju is able to take down the Long Islander and be a complete douche rocket.  Nothing is off limits, either, from guardrails to steel steps to steel chairs.  Anything Raju can do, Cardona can do better (and I blame Striker for putting that ear worm in my head, that evil bastard!  I will cripple him with polka music if/when I get the chance…!)
Huh?  Oh, right.  The match.
Spot of the night has Cardona delivering a monkey flip to Raju in the corner turnbuckle, that has a steel chair balanced on said ropes that flips out when Raju's skull bounces off it.
.@TheMattCardona SMASHES @HakimZane off a steel chair. #VictoryRoad pic.twitter.com/VoUeZ7FBpb

— IMPACT (@IMPACTWRESTLING) September 19, 2021
Cardona follows with a codebreaker to Raju, and covers for a two count.  Raju gets a steel garbage can, and tries to suplex Cardona but it gets reversed to a TKO for another two count.  Then Raju sets up two steel folding chairs, gets Cardona in a front suplex onto said chairs followed by double stomp for a two count.  Radio Silence by Cardona to Raju but Shera pulls him out to break the count. Cardona gives chase to the outside and gives a Radio Silence to Shera on the ramp. Back in, and Raju nails a Drive By kick. Raju then sets up a chair to his head, and Chelsea Greene comes to save her man. Distracted, Raju swings at Green who Kick Raju in the bread basket, and Raju gets Radio Silence by Cardona who gets the trey.
Your Winner via Pinfall:  Matt Cardona
---
We get another Video package of the feud with FinJuice and the (lower-tier) Bullet Club members Hikuleo and Chris Bey.  This probably makes more sense in New Japan programming than here, but…eh, I'm gonna roll with it.  So here it is…
---

FinJuice (David Finlay and Juice Robinson) vs. Bullet Club (Chris Bey and Hikuleo) Tag team match
(Quick Poll:  Is it me, or am I getting serious "AJ Styles/Omos" vibes from Bey/Hikuleo?)
In any case, FinJuice start strong against Bey and have serious tag team chemistry, until Bey targets Robinson's knee, thus becoming your Juice in Peril.  Mostly it's a nice match that highlights Bey's speed while focusing on Hikuleo's power dynamic.  At one point, Hikuleo gets a nice delayed vertical suplex to Finlay and a cover for a two count, while Striker warbles AC/DC's It's a Long way to The Top (If Ya Wanna Rock N' Roll).
Looooooong delayed vertical suplex by @Hiku_Leo. #VictoryRoad pic.twitter.com/2zyAVt0bLu

— IMPACT (@IMPACTWRESTLING) September 19, 2021
(Stay in your lane, Striker, and I'm thinking about finding a polka version of Never Gonna Give You Up to weaponize that Rick-roll.)
Anyway, Finlay with a hot tag to Robinson to be a Juice en Fuego.  Robinson punches and feints the Shotei to Bey to hit a DDT for two.
Shades of @TheArnShow from Juice Robinson. #VictoryRoad pic.twitter.com/Gs6nfPSulP

— IMPACT (@IMPACTWRESTLING) September 19, 2021
FinJuice is running on all four cylinders, until Bey clips Juice with a steel chair. Hikuleo with a corner splash to a falcon arrow and that all she wrote.
Your Winners via Pinfall:  The (lower-tier) Bullet Club
---
Another video promo of the alliance between the toughest men in the locker room, Sami Callahan and Eddie Edwards, against the threat that is Moose and Morrissey, and it proves that the enemy of my enemy is my friend.  Let's see how that works in the next match…
---

Eddie Edwards (with Alisha Edwards) and Sami Callihan vs. Moose and W. Morrissey
It's a pier four brawl but Edwards and Callihan stand tall before they both do stereo tope suicidas to Moose and Morrissey, respectively from the ring to the floor.  With Morrissey in the corner, Edwards and Callihan chop him down, literally and figuratively, but Morrissey gets crazy eye and double choke slams booth men.
.@TheCaZXL chokeslams BOTH @TheEddieEdwards and @TheSamiCallihan. #VictoryRoad pic.twitter.com/tv66PWAm69

— IMPACT (@IMPACTWRESTLING) September 19, 2021
Callihan goes out, and Eddie is your Edwards in Peril.  Moose and Morrissey take their time hurting the Bostonian.  Edwards manages to tag Callihan and hits a DVD on Moose to cover for a two count, and Moose answers back with a choke slam powerbomb for another two count.  Edwards is back in and gets a sitout powerbomb to Moose to cover, but Morrissey shoves Callihan to break up the count.
There's a nice variation By Edwards/Callihan of Chasing the Dragon (brain buster/Superkick combo) to cover for a count of two on Moose.  Callihan sets up for the spike Piledriver, but Morrissey kicks him off.  Moose grabs the kendo stick from Alisha, and swings and misses, and Edwards borrows from Sami's offense and hits the spike Piledriver.  He grabs the kendo back, and Morrissey grabs Alisha to distract, which leaves him prone to a spear by Moose.  Morrissey then gets Alisha and powerbombs her.
.@TheCaZXL JUST POWERBOMBED @MrsAIPAlisha! #VictoryRoad pic.twitter.com/mLyCfuQ8WV

— IMPACT (@IMPACTWRESTLING) September 19, 2021
Alisha is lying still, and this prompts Striker and Brown with golf whispers to wonder her fate.  The refs come out to check, and Edwards takes his wife to back.  This leaves Callihan all alone and the numbers game catches up to him.  Morrissey tees up Callihan, and Moose gets the spear for the three.
Your Winners via Pinfall:  Moose and W. Morrissey
---
Video package showing Steelz and Savannah taking the titles, and Decay ain't having it. But, this means the titles are up for grabs, so here's your…
---

IMPACT Knockouts Tag Team Championship:  Decay (Havok and Rosemary) (c) vs. Savannah Evans and Tasha Steelz
Steelz and Savannah are pleased as punch they hold the belts, and that feelings last like a minute before Decay come out, and go full smash mouth.   Folks, these are the Belles of the Brawls, and Havok and Savannah Evans ain't no slouches.   D'Lo gets giddy when Havok does the Sky High to Steelz to cover, but Savannah breaks up the count.
.@dlobrown75 finds great joy in people doing the Sky High. #VictoryRoad @FearHavok pic.twitter.com/IdYLU0rzQy

— IMPACT (@IMPACTWRESTLING) September 19, 2021
Havok sends Savannah outside, and she gets green misted by Rosemary.  From there, Rosemary gives a splash to Steelz on outside, and she sends her back in to Havok for the tombstone and the titles come back home for The Decay.
Your Winners, and Still IMPACT Knockouts Tag Team Champions:  The Decay
---
Backstage, Ace Austin cuts a promo giving props to Christian Cage for building the foundation of IMPACT Wrestling, but says you gotta look to the future. It is inevitable, and it's not a matter of if, but when, and he promises to be the youngest Impact world champion in history.  Ya know, I never gave much thought to him before, but now…?  Well, Show Me What Ya Got, Austin.
---
Video package of the brewing feud between the Good Brothers and Mack/Swann that looks like it's going to explode for the next matchup for the…
---

IMPACT! Tag Team Championship: The Good Brothers (Doc Gallows and Karl Anderson) (c) vs. Rich Swann and Willie Mack
Gallows and Mack step up to see who the tougher individual is, and Mack is able to move and take it to the Big LG with a ten count punch in the corner.  Quick tag to Swann, and now Gallows moves him to the Good Brothers corner, but Swann Gets back to Mack, and they got tag moves, too, as they deliver stereo dropkicks to Gallows.
Stereo dropkicks by @GottaGetSwann and @Willie_Mack. #VictoryRoad pic.twitter.com/cZ6tKD6uML

— IMPACT (@IMPACTWRESTLING) September 19, 2021
But soon, the Good Brothers get Swann isolated, work him over, making him a Swan in Peril (geez, I'm getting sick of saying this tonight), but Swann escapes and a hot tag to Willie makes him a Mack on the Attack (Gotta switch up, folks).  Well the Good Brothers ain't dealing with that happy crappy, and as the set up Mack for the Magic Killer, Swann gets in and reverses to neck breaker to Gallows and a Stun Gun to Anderson.  Unfortunately, as cool as that move was, it's not enough as the Magic Killer makes the Good Brothers just Too Sweet.
Your Winners, and Still IMPACT Tag Team Champions:  The Good Brothers
---
Video package where Alexander wants to etch his name among the X-Division greats, but Sabin wants to make a statement and can back it up as an eight time champ.  But will he make it nine?  Let find out as it is for the….
---

IMPACT! X-Division Championship:  Josh Alexander (c) vs. Chris Sabin
There are dueling chants of "Let's go Say-bin!" and "Walk-ing Wea-pon!" for both Sabin and Alexander, respectively, as both men start out.  Alexander wants a ground game, but the wily veteran Sabin goes to what made him a star in the X-division, with strikes and stomps. Alexander is able to keep up with a splash to Sabin through the ropes to the outside floor, but Sabin had some moves too, with a kick and DDT combo in the ring to cover the champ for a two count.   Alexander attempts early on to transition to an ankle lock, but Sabin gets to the ropes before more damage is done.  Alexander delivers a gut wrench suplex to Sabin, slowing the pace and the Walking Weapon is methodical in his approach.
Alexander gets a bow and arrow stretch submission to Sabin, but he gets his foot on the ropes to break the hold.  Next Alexander tries a full body slam and cover for another two count, and the champ is getting frustrated.  Sabin gets his second wind and kicks in to another gear, and works a corkscrew neckbreaker from the ring apron to the floor on the champ.  Back in, Sabin hits a missile dropkick to the neck of Alexander to cover for a two count.  Now Alexander dips into his power moves and delivers a powerbomb/backbreaker but only gets two.  Sabin has a good wrist grip to Alexander that he transitions to a crossface, but Alexander escapes the hold, but Sabin keeps the wrist lock control.
.@SuperChrisSabin and @Walking_Weapon are delivering an X-Division CLASSIC. #VictoryRoad pic.twitter.com/nVjrDbGJPT

— IMPACT (@IMPACTWRESTLING) September 19, 2021
He goes for another submission hold, and Alexander gets out of that.  Sabin goes for Future Shock, but now Alexander cinches ankle lock, dead center of ring.  Sabin writhes in pain, and then bends back to a pin to break the hold.  Sabin kicks off Alexander's headgear, and the champ answers with a German suplex and a C4 spike Piledriver and clinches victory.
Your Winner via Pinfall, and Still IMPACT X-Division Champion:  Josh Alexander
Afterwards, Sabin extends his hand, and Alexander shakes it in mutual respect. Words are whispered by the Motor City Machine Gun to the Walking Weapon, and then a hug to a raised hand by Sabin. Classy move, and everyone claps.  That's a hard act to follow.  Speaking for which…
---
Our final video package (thank the gods) of Cage winning the IMPACT world title belt from Kenny Omega, and how Ace Austin managed to earn a number one shot at the championship. So let's get to the Main Event for the…
---

IMPACT World Championship:  Christian Cage (c) vs. Ace Austin (with Madman Fulton)
We get boxing style intros from ring announcer David Penzer to hype the crowd, and Penzer announces that senior ref Brian Hebner is the man in charge of the action.  Start of the match is a classic story of the veteran versus the upstart punk, and Cage shows up Austin at every turn.  Austin sends the champ through the ropes, and as Austin goes for a splash Cage moves back in the ring and goes to a basement dropkick.
.@Christian4Peeps stays one step ahead of @The_Ace_Austin to deliver a dropkick. #VictoryRoad pic.twitter.com/yvugtcar8Z

— IMPACT (@IMPACTWRESTLING) September 19, 2021
Cage has an answer for everything Austin throws at him, but Cage encounters Fulton outside, and Austin's kick to the back stops the rage of Cage.
The match is now all Austin, and a well-timed paper cut to Cage's hand by a hidden playing card gives the champ fits.  Cage gets to a vertical base, but Austin shoots him through the ropes and hits him square in the sternum.  Cage stumbles to the outside and Fulton lumbers over to add injury to insult, but Hebner catches him in the act, and ejects him.  Austin can't believe his rotten luck, and he goes to Cage in the corner, but Cage escapes through the ropes and nails a kick to Austin, and follows with a tornado DDT for a two count.  The crowd is getting in to this, with "This is awesome!" chants.  Up top, Cage gets Austin with a flying European uppercut, and then sends Austin in to the corner, and Cage goes up with the 20 count(!) punch to the head.  Austin goes for a kick and misses, and gets an inverted facelock backbreaker by Cage for a two count.  But Austin has a (figurative) ace up his sleeve or two, and he goes to the corner, and as Cage gives chase he uses the ropes to slip through and goes for a unique springboard kick to cover for two.
.@The_Ace_Austin is taking @Christian4Peeps to the absolute limit. #VictoryRoad pic.twitter.com/XvPB6Pvi1F

— IMPACT (@IMPACTWRESTLING) September 19, 2021
Momentum is behind Austin now, but he runs into a spear by Cage, who cover for two.  Cage is fired up, but Fulton runs back out to clip Cage, and Austin takes advantage to set him up dead center in the ring for a corkscrew senton gets a two count.  Frustrated, he goes for The Fold, but a well-timed Killswitch by Captain Charisma is enough for the one, two and three.
Your Winner, and Still IMPACT World Champion:  Christian Cage
---
The crowd is ecstatic with the win and…wait, Josh Alexander comes out, and eyeballs the champ.  He steps in, grabs the mic, and says, "Bound For Glory."  He then raises the X-Division belt up and then says, "Option C."
"Bound For Glory…OPTION C!" @Walking_Weapon has exercised Option C to challenge @Christian4Peeps at #BoundForGlory! #VictoryRoad pic.twitter.com/pNnTdRfsvb

— IMPACT (@IMPACTWRESTLING) September 19, 2021
So, in effect, he will relinquish the title for a shot at the big belt, and we'll have to ponder the fallout from this next week as the show fades to black.
Final Thoughts:
This show had ten matches ov erall, and for me, that was five matches too many.  Mostly the first Five would be okay if it was on regular Impact Wrestling, but didn't feel like they belonged in the pay-per-view.  They could have tightened up on some of the matches, but there ya go.
I was about to give this two stars but the X-Division and the World Title matches kept my interest from waning too far.  Also, now it's Josh Alexander and Christian Cage will be for the World Championship?  And this can open up new possibilities for the X-Division picture for the rest of the roster?  Uhhh, yes please!  Sign me up.
Until Bob Kapur gets back and wonders what gibberish I wrote, Enjoy until the next IMPACT!