While Thursday night's episode of Impact did a strong job of finalizing the build to Friday night's Over Drive event, the show's main event – a blood-filled brawl between Eric Young and Sami Callihan – was the definite highlight of the night. Which is saying a lot on a show that had some good matches and strong promos. Of course, it could also be that the bloody brawl just looked good when compared to the other "hardcore" match on the show that fell flat. No, while that's true, the Sami-Young match was really just that good.
---
Match 1: PJ Black vs. Black Taurus (w/ Crazzy Steve) – X-Division Title Tournament match
---
It's unfortunate that the media always focuses on black-on-black violence. Unless it's these two going at it, because this wasn't unfortunate at all – indeed, this was a fun clash of styles, with Black using his speed and innovative offense (and his Captain Jack Sparrow look) against the angry power of Taurus. The match went back and forth, with the two exchanging moves – including a Spanish Fly by Black at one point – but neither would stay down. That is until Taurus caught Black with a mighty headbutt, and planted him with Destination Hell-Hole for the definitive pin.
.@Taurusoriginal defeats @darewolf333 and moves on to face @TheTreyMiguel TOMORROW NIGHT at #OverDrive to crown a NEW X-Division Champion!#IMPACTonAXSTV pic.twitter.com/qtbXCv4nu6

— IMPACT (@IMPACTWRESTLING) November 18, 2022
With the win, Black Taurus will face Trey Miguel tomorrow night at Over Drive for the vacant X-Division Championship. Taurus is so unique and so much fun to watch, it would be great to see him with a singles title. Trey's been there, and while he never fails to deliver, a shake-up and some new matches in that division would be a nice change.
Winner: Black Taurus
---
Over Drive main event contract signing
---
Impact Executive Vice-President Scott D'Amore was at a boardroom table along with the World Champion Josh Alexander and his challenger on Friday, Frankie Kazarian. Both opponents were accompanied by their wives: Jenn (Josh's wife) and Mrs. Kazarian, aka Impact Knockouts legend Traci Brooks.
As Josh signed the contract, he took the time to tell Kazarian how much he respected him. He said that during their tag team match last week, he realized that Kazarian is better than ever, and he's honoured to be defending his title against someone he admires so much. Kazarian reciprocated with compliments to Josh, telling him how impressed he is with Josh as a wrestler and a person.
He said that Josh inspired him, too, noting that he was following Josh's lead in exercising Option C to get the chance to compete for the title, something that he said he has always wanted, and would finally get on Friday. Josh took some umbrage with Frankie's prediction and told him that he wasn't going to be successful in his quest to get the title. Frankie told Josh that he needs to learn that disappointment is a real part of the business, and said that Josh and his family would find that out. That comment got Jenn to chime in, and things started getting a bit tense between the four of them.
But D'Amore was able to diffuse the situation, reminding them that they were both professionals who respected each other. They agreed to settle things in the ring tomorrow, and everyone left.
---
Later, Josh and Kazarian met up in the locker room, and they both apologized for getting worked up. After they cleared the air, Bully Ray walked in, carrying his Call Your Shot trophy, which allows him to challenge for the World Championship any time he wants.
Bully was upset that nobody trusts him. He tried to assure Kaz, just like he'd told Josh earlier, that whichever of the two of them was champion after Over Drive, he would call his shot "straight up" – i.e. not exploit a cheap opportunity. Kaz, clearly not trusting Bully's word, smirked and this raised Bully's ire. Bully sarcastically wished Kaz good luck and left.
Kaz told Josh that he shouldn't trust Bully. Josh, who had heard this enough times already, said that it didn't matter what anyone thought. That he would take the fight to Bully Ray no matter how or when Bully cashed in the trophy. Kaz told him it may be a moot point anyway if he beats Josh tomorrow, and then left Josh to ponder the situation.
---
Match 2: The Motor City Machine Guns vs. Aussie Open (Mark Davis & Kyle Fletcher) vs. the Bullet Club (Ace Austin & Chris Bey) vs. Raj Singh and Shera
---
Perhaps unexpectedly given some of the teams involved, this one didn't start out at top speed, but rather started off pretty methodically, and then worked its way up to fifth gear. That happened after Aussie Open dispatched Shera with Double Superkicks, leaving them in the ring with the Guns.
Later, in a neat sequence, Mark Davis took out both members of the Bullet Club using only one hand apiece in a good display of strength. More too-quick-to-call action ensued. Finally, the Bullet Club had Fletcher isolated. In a really cool-looking move, Austin threw Bey at Fletcher and Bey turned that into the Art of Finesse. When Fletcher bounced up from that, Austin followed that up with The Fold, and that double-whammy was enough to keep Fletcher down.
Bullet Club's @The_Ace_Austin and @DashingChrisBey pick up a HUGE win on #IMPACTonAXSTV! pic.twitter.com/LZ9NyDFhA6

— IMPACT (@IMPACTWRESTLING) November 18, 2022
This was a strong match, and that final sequence was just too sweet.
Winners: The Bullet Club
---
Rosemary and Taya were in the bowels of the building. Rosemary was a bit irritated that she couldn't find Jessicka, who is scheduled to face Tasha Steelz tonight. She was also angry that Jessicka has been incommunicado with them all week, but was frequently on the Tik-Tok drinking and dancing. Taya told her that Scott D'Amore agreed that Taya could face Steelz tonight instead if Jessicka no-showed.
---
They showed a promo that Jordynne Grace did last week after getting sneak-attacked and beaten up by Masha Slamovich last week. She challenged Masha to agree to making tomorrow's match for Grace's Knockouts Championship a Last Knockout Standing match.
---
Match 3: Tasha Steelz (w/ Savannah Evans) vs. Taya Valkyrie (w/ Rosemary)
---
Early on, this looked like this was heading to squash territory, with Taya completely dominating Tasha with big power moves and smashes. Steelz had a couple of moments of comeback, but it was pretty much all Tara. Even in the end, when Tasha tried to reverse a move into a roll-up, Taya simply sat down on her and covered Tasha for the 1-2-3.
After the match, Evans and Steelz attacked Rosemary and Taya, and had them down, but Jessicka – looking like she was in full Vegas party mode, complete with a beer can helmet – ran in for the save. She destroyed Evans and Steelz and then celebrated with her Death Dollz partners.
This was as close to a squash as you can get. Not sure what the endgame is with the Death Dollz, though it's increasingly looking like Rosemary will eventually turn heel on Jessicka. Time will tell.
Winner: Taya Valkyrie
---
Josh Alexander went into Tommy Dreamer's dressing room, to get his advice about Bully Ray. Dreamer told Josh that he trusted Bully Ray, and Josh should too. Josh was disbelieving at first, but Dreamer reassured him that Bully was a changed man and should be trusted.
---
They showed a promo from Trey Miguel after his match last week. He said that he plans on winning the X-Division Championship tomorrow night.
---
Match 4: Steve Maclin vs. Tommy Dreamer – Old School Rules match
---
To clarify, "Old School Rules" is simply a No Disqualification match. After some slugging it out in the ring, Dreamer was the first to go extreme, using some cookie sheets to bash Maclin in the head. Dreamer then pulled up the ringside mats to expose the hard floor, but Maclin escaped the Piledriver attempt and whipped Dreamer into the ring post, before hitting Dreamer with a Cactus Jack elbow off the apron to the floor.
.@SteveMaclin and @THETOMMYDREAMER wasted no time taking things to the EXTREME! #IMPACTWRESTLING pic.twitter.com/oKzRhxKAxj

— IMPACT (@IMPACTWRESTLING) November 18, 2022
Maclin brought in some additional weaponry – chairs, a wrench, a Singapore cane – but Dreamer recovered before Maclin could use them, and soon Maclin was in trouble. Dreamer missed an elbow off the top and instead his elbow hit a chair. Maclin tried to capitalize with a Singapore cane, but Dreamer hit the White Russian Leg Sweep, and then nailed Maclin in the head with a flying garbage can.
Dreamer introduced a table, leaning it up in the corner. But after he did, Maclin drilled him from behind, threw Dreamer head-first into the garbage can which had earlier been wedged into the corner, and then hit Dreamer with a DDT on to a chair, which was a nightmare that Dreamer couldn't wake up from.
This was a pretty lame hardcore match. There are many people who say that they don't want to see Dreamer wrestle anymore, and this match will do nothing to change their minds. At least it was the right outcome, as Maclin should be getting his long-overdue push.
Winner: Steve Maclin
---
After the match, Maclin got a chair and it looked like he was going to smash Dreamer's head open, but Bully Ray ran in and stopped him. Following right on his heels, though, was Moose, and he took down Bully and put the boots to him. Maclin and Moose teamed up and they were going to throw Bully Ray through a table, but Josh Alexander ran in and stopped them. He them both around with German Suplexes and they bailed. Josh turned around and saw Bully Ray behind him, holding Josh's belt – though it wasn't clear from Bully's posture and facial expression whether he was just planning to hand over the title or whether he had evil intentions and just got caught by Josh before he could do anything nefarious. After a couple of seconds of wariness, they nodded at each other, and teamed up to put Maclin through the table. After, Josh gave Bully his trophy, and Bully gave Josh back his title belt. They watched each other closely as they left the ring together.
Hmmm…. It appears I spoke too soon. Maclin's win kind of got derailed with all of the post-match shenanigans.
---
Gia Miller welcomed Masha Slamovich to her first ever interview in Impact. Gia asked Masha about losing to Grace at Bound For Glory, which didn't endear her to Masha, who had no time for Gia who she insulted in Russian (her comments were subtitled). Masha called herself a fighter and said she would do anything and everything to win the title in the Last Knockout Standing match. She predicted "Death" for Jordynne tomorrow.
---
Sami Callihan was shown in the back getting ready for his match against Eric Young.
---
Match 5: Laredo Kid vs. Rich Swann
---
This one did start at top speed, with lots of aggression from Laredo Kid, including a dive over the top to the floor. This seemed to really take Swann by surprise, and he got walloped with a bunch of moves by Kid from every angle.
.@Laredokidpro1 and Rich Swann are starting HOT!#IMPACTonAXSTV pic.twitter.com/XhBrSeNB4q

— IMPACT (@IMPACTWRESTLING) November 18, 2022
But then Swann put his legs up when Kid went for a Moonsault and Swann bought himself an opening. But the opening closed pretty quickly, and soon Kid was in control again, nearly getting a pin after a Frog Splash. Kid went for a Spanish Fly, but Swann pushed him off the ropes, then hit a Springboard Cutter and a 450-Splash for the pin.
This was interesting. It was neat to see a different, more aggressive side to Laredo Kid. It would actually have been neat to see him get the win and start showing off a different attitude. Perhaps a missed opportunity?
Winner: Rich Swann
---
In the back, Mickie James was talking with Taylor Wilde, and both are excited about their match tomorrow. Mickie questioned why Taylor came to the ring during Mickie's match with Chelsea Green last week. Taylor said she wanted to make sure that Deonna Purrazzo didn't interfere and somehow cost Mickie the match and her career given Mickie's Last Rodeo stipulation. Then Taylor ominously threatingly said that if anyone was going to end Mickie's career, it would be her. As Taylor walked away, Mickie looked somewhat taken aback by the comment.
---
A promo video aired, showing the build for tomorrow's World Title match, and with comments from both Josh Alexander and Frankie Kazarian.
---
Match 6: Eric Young vs. Sami Callihan – Death Machine's Double Jeopardy match
---
The announcers ran down the rules for this one. First you have to make your opponent bleed. After he's bleeding, you win by either pinning or submitting him. There are no disqualifications in the match.
As Sami was making his entrance, he was attacked by Violent By Design (Angels, Deaner, and Kon), who triple-teamed him and busted open his forehead. Meaning Sami was already in Single Jeopardy before the match had even started. And as an aside, while this may seem anti-Canadian, can I say how glad I am that Matteo Roach is not in the finals of the Jeopardy Tournament of Champions?
Sami got in the ring and Eric tried for an immediate win with a Death Valley Driver, but Sami kicked out and rolled to the floor. There, Young continued the beatdown of the weakened Sami, who fought back and hit Young with a Suplex on the floor. Sami then got some plunder, but instead of grabbing a garbage can or other sharp pointy metal item, he used an 8X10 photo to try to slice Young's mouth open with a paper cut – which looked nasty, but didn't draw any blood.
DISGUSTING! @TheSamiCallihan just tried to papercut @TheEricYoung's MOUTH! #IMPACTonAXSTV pic.twitter.com/V1YJWZ6Qjz

— IMPACT (@IMPACTWRESTLING) November 18, 2022
They fought on the apron where Sami hit a Death Valley Driver of his own. This dazed Young who ended up bouncing off and colliding into the ring post, and that was enough to start the blood gushing from his head, leaving both at risk of losing.
The fight continued in and out of the ring, and the two used various violent moves to beat each other into oblivion. Weapons came into play, including a garbage can lid to Sami's knee, which Young then punished with a Leg Lock. But Sami wouldn't quit or be pinned, and instead reversed Young's move with a Leg Lock of his own.
They hit each other with headbutts, deepening their crimson masks, and then just started throwing haymakers at each other.
Young hit a Piledriver, but Sami kicked out. Young went for another, but Sami countered it with a 5-on-2 and hit a Cactus Special, but Young kicked out. Sami then went to town on Young with the garbage can lid, hit Young with a Piledriver, and that was all she wrote.
As Sami left the ring, the other VBD members came to the ring and stood beside Young's fallen body. The show ended with them silently brooding and staring at him while he could only look up to them, pained and bloodied.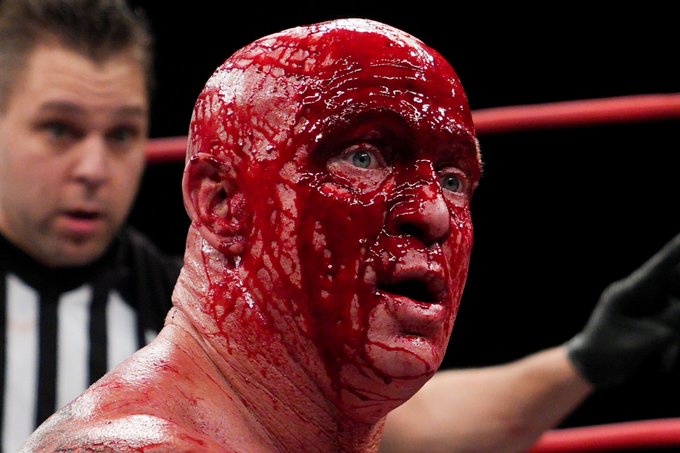 This was really good. The copious amount of blood spilled by both guys made for some great visuals, and really conveyed that a brutal fight had taken place. The ambiguous ending with a potential teasing of a VBD split was intriguing and leaves the door open for possibilities. If there was one bad thing about this one, it's that it made the earlier No-DQ match seem that much more tame because of the level of violence in this one. Otherwise, thumbs way up.
Winner: Sami Callihan
Impact Wrestling - November 17, 2022
Sam's Town Casino - Las Vegas NV
This was a good show that set the final table for tomorrow's Over Drive show. On paper, that one seems good, in particular the main event between Josh Alexander and Frankie Kazarian, which was heavily-promoted tonight.
Tonight's bloody main event was one that you should go out of your way to watch. Everything else was pretty good, with the exception of a rare miss of a Steve Maclin match – though the booking, more than him, should bear the brunt of the blame for that.